Change is hard. It's hard whether you're a person, a community, a company, an industry or a nation.
As of late, a flurry of advancements in the public relations industry have forced PR professionals to adapt to a new, rapid pace — or else face rapid irrelevance. The sheer amount of change can be daunting. And the difficult fact is that these transformations often leave us bereft and confused, wondering how, exactly, to embrace them.
Countless times we've jumped in, learned something different and mastered a new skill — only to realize that the 10-year-old standing in front of us at the grocery store is already light years ahead of us. This relatively new, cultural phenomenon is both infuriating and fascinating at once.
In a recent conversation at Dell World, the vice president of marketing communications at Dell Services, Mona Charif, gave a relatable analogy based on her experience at a company that has undergone tremendous change in the past year:
"You know when you're on an airplane, and all of the sudden it becomes really turbulent? You're kind of nervous, looking around and thinking, 'I wish the pilot would say something!' When he gives you the heads up, tells you what to expect and that everything is OK, it becomes much less stressful."
In other words: change becomes more manageable when you understand what's going on, how long it will last and whether you are on course to conquer it change becomes more manageable when you understand what's going on, how long it will last and whether you are on course to conquer it. Within companies, "change management" is generally a focused effort; but within industries, there is less support and less understanding of these changes without centralized leadership to navigate.
As an industry undergoing massive changes — with journalists fleeing to brands and budgets shifting to data-driven metrics — PR stands at a fork in the road, which requires both a new way of thinking and new, diverse skill sets.
Perhaps the most adept framework for how public relations and communications professionals should think about PR is the PESO (paid, earned, shared, owned) model, developed and championed by Gini Dietrich. Dietrich is a leading voice for the PR industry, and author of Spin Sucks.
"There is a misguided perception in the PR industry that all we do is media relations. Get your boss or client on the front page of the New York Times and all of your troubles will vanish," she explains. That, of course, is an old paradigm. The industry used to "measure" media impressions and advertising equivalencies (many still do, unfortunately). Today, however, we have tools at our fingertips to push a fully integrated program that delivers real organizational results.
"If you aren't using the PESO model for your communications work, and measuring the meaningful metrics that help an organization grow, you will not have a job in 10 years." "If you aren't using the PESO model for your communications work, and measuring the meaningful metrics that help an organization grow, you will not have a job in 10 years."
She's being nice. I'd say five.
To her point, the PR industry's rapidly-evolving state has been fueled by major industry incumbents like Cision (which is on track to build out a robust "PR Cloud'), has all but forced PR professionals to re-think and re-frame how to approach the discipline and ask questions such as:
How does data play a role and what do we need to measure? Which skills are obsolete and which news skills do we need to acquire? And most importantly: How do we work in tandem with marketing, advertising, brand, analytics and search so that our efforts are streamlined and the benefits of PR apparent?
"While historically the PR side of communications purely thought in terms of organic, there are increasing opportunities to make paid and organic work together," notes Adam Singer, analytics advocate at Google and founder of PR blog, The Future Buzz. "Classically this occurred in search where marketers would work with the SEO side to have the best, most relevant content for organic results and pair with SEM campaigns to target paid terms."
Equipped with analytics, which is the "light" that brings clarity to both organic and paid content, PR pros gain insights into what types of content works best; then they can track, test and iterate to optimize future campaigns.
The emergence of native advertising and content marketing has also played an integral role in the shifting PR tides.
Josh Payne, founder and CEO of StackCommerce, a company innovating in the native commerce space, gives insight into the recent move publishers have made in terms of rethinking paid content: "Web audiences got tired of banner ads, and had severe digital advertising fatigue. In social, it was 'the stream.' In publishing, 'the feed.' The question for publishers became: 'How can we integrate content into the feed that doesn't damage the reader experience?'"
Payne's point is well taken and gets us to yet another aspect of re-thinking the PR model. In the past, the goal of PR has been to get the word out vis-à-vis media, and to position brands and companies in a way that paint them in a positive light. Yet today, PR has a huge opportunity to directly inform marketing and advertising in terms of what customers are saying, doing, and thinking about products, services and beyond.
Putting the PESO model to task
Dell is a prime example of a company that is re-organizing marketing, communications and brand to create a content-driven ecosystem that effectively reaches and engages with customers.
"It drives me crazy when PR people say they aren't in marketing," remarks Monique Bonner "It drives me crazy when PR people say they aren't in marketing," remarks Monique Bonner, Dell's VP of global marketing. "PR has owned content for a million years. Marketing can turn to PR and say 'What are you creating and how can we leverage it to meet our business goals?'"
An example of how they're doing it?
During Dell World this year, which attracted over 3,000 customers, analysts, entrepreneurs, and media from across the globe, the company released their first annual Global Technology Adoption Index (GTAI). The idea originated on the communications side as an opportunity to provide a media "hook" during the conference. But when they presented the idea to marketing, and got the brand team involved, it snowballed into an entire program involving press, native advertising, owned media and social.
"Our brand team has taken that study and turned it into a variety of assets including infographics and native ads, all of which point back to specific Dell digital properties," adds Bonner. "Essentially, we are targeting customers with relevant content based on PR direction."
In the Dell example, here's how it went:
Michael Dell announced the Global Technology Adoption Index during the Dell World press conference
The GTAI results were shared across Dell's social media platforms (e.g. LinkedIn, Twitter, Facebook), including tweets from the @Dell handle, and the social community was encouraged to use the hashtag #delltechindex
Dell's owned media site, Tech Page One, released a story called "Tech Hype meets Tech Reality" which outlined some of the key findings from the GTAI
The PR team pitched the story to journalists and secured media coverage including online tech and business sites like the Irish Times, ZDnet and eWeek
The New York Times GTAI native advertising campaign was released a day after the news media covered the announcement
Online video and content syndication ran on business and technology sites
Paid social posts promoted the campaign on LinkedIn and Twitter
Infographics were used to accompany all of the above content
This is the bridge where marketing and PR lives, and it's pure magic. Communications identifies and creates a focused piece of content. Marketing and Brand leverage the content and use data to determine where it best fits. Technology enables a company to draw in the customer; then directs them to an ecosystem of content, allowing them to learn, explore, interact and ultimately make a buying decision.
What it takes for PESO to work
In the GTAI example, Dell worked closely with their agency of record, WPP Team Dell, on the rollout. The horizontal agency team included PPR Worldwide for communications, Y&R for advertising, VML for digital, Mediacom for media buying and a variety of others.
Joe Rivas, global client leader at Y&R Team Dell sums it up nicely: "Marketing is undoubtedly becoming content-driven "Marketing is undoubtedly becoming content-driven and content opportunities can be overlooked if you're working in silos. An integrated initiative like GTAI was made possible by a genuine commitment to horizontality — both at WPP and Dell — where PR, digital, media and social all have equal seats at the table with one mission in mind, to identify and develop the best content possible."
PR professionals who adopt the PESO model can have tremendous influence in terms of overall marketing communications strategy. If you're stuck in "media relations" mode, you'll miss the opportunities that exist just beyond the initial hook. When embraced from a holistic standpoint, what starts as a mere story to generate industry news can inevitably become an entire campaign that reaches customers where they are consuming news in a meaningful, compelling, targeted way.
This evolved thinking requires a willingness to change and to view PR as a diverse discipline … and in it lies the real the power of PR.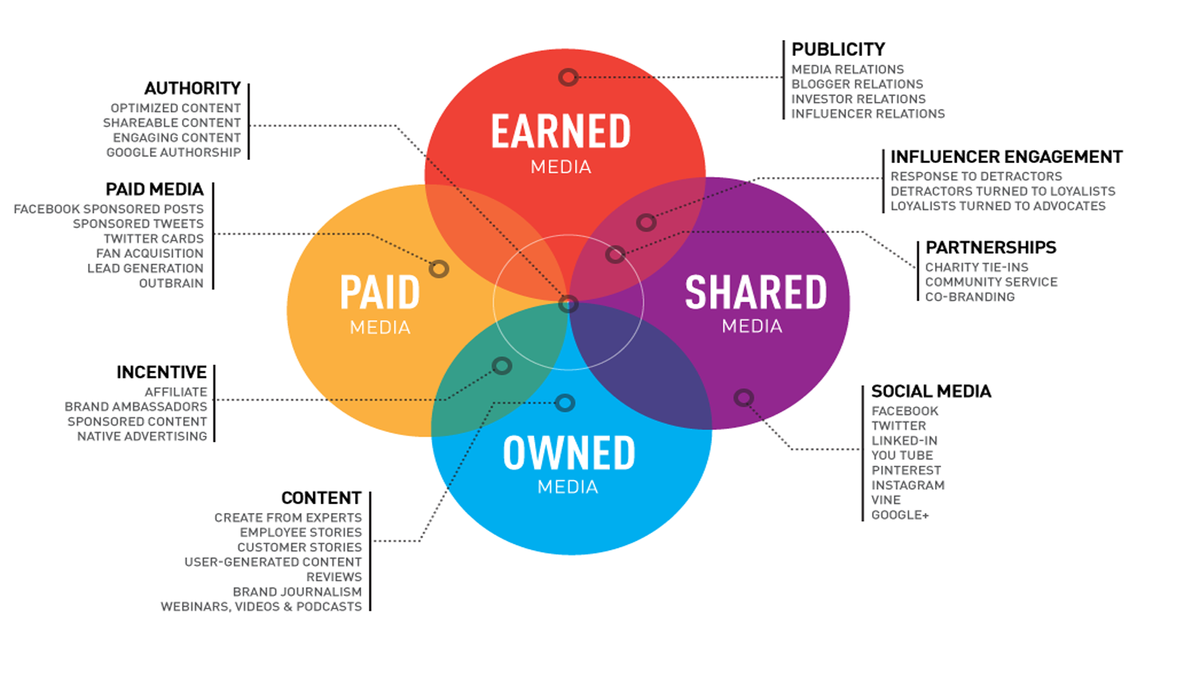 https://creativemindworks.com/wp-content/uploads/2014/12/Pyxl_Blog_PESO_PR_model.png
652
1141
Phillip
https://creativemindworks.com/wp-content/uploads/2018/01/CMW-2016-LOGO-1.png
Phillip
2014-12-01 12:20:48
2018-01-10 15:51:50
Why PR is embracing the PESO model